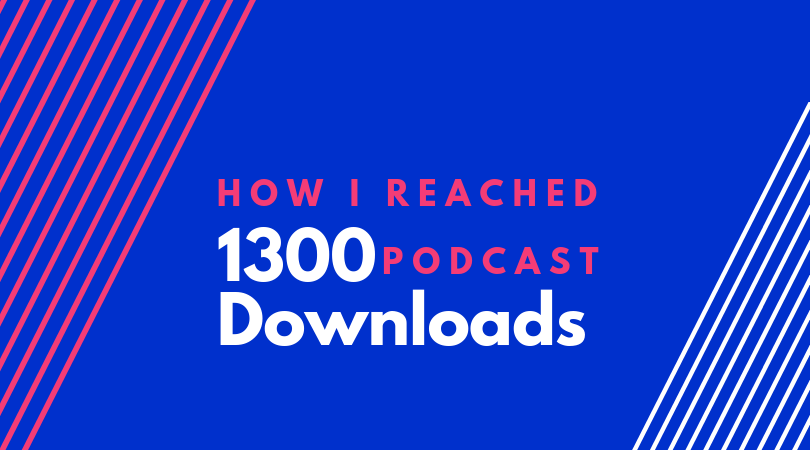 The first episode of the Software Engineering Unlocked podcast just passed with 1300 downloads the 1000 downloads mark, after two weeks of being released. The second episode, that I released two days ago now passed the 500 downloads mark.
These numbers are way above my biggest fears. So, yeah, I can say, I'm happy with the results. But also, the more I'm in the indie business, the more I'm able to detach myself from numbers. What's way more important than the numbers is that I actually like everything about podcasting. And that's a real good sign. The other great sign are the people that reach out and tell me they liked and enjoyed my interviews. That's a real motivation boost.
Anyway, numbers are important, as this represents the potential of the podcast to become a business. So passing the 1000 download mark is an important step. And to be honest it is easier to detach yourself from a 1000 download statistic than from a 10 😉
How did I promote the podcast?
Several people asked me how I promoted the podcast. So, my main marketing strategy was to use my personal Twitter account to promote the episode. I already used the preparation time before the launch, to tweet about my new project and to build up a small mailing list of around 100 people.
Shortly before the launch, I created the podcast's own Twitter handle, which I could grow to 660 followers right now. I do not tweet much there, but all tweets are focused on the podcast.
Snippets and Previews of the Episodes
I used the Headliner App to make small snippets of the podcast that give a sneak peek. This app allows to easily attach small excerpts of the audio to an image, and have transcripts with it. It's a nice visual effect that boosts Twitter engagement. So, after releasing an episode, I share those with the Twitter followers. I really like to make them, and they are well received. Have a look here to get an idea.
Prelaunch preparation of the podcast
In the weeks before the release of the first episode, I started to build a mailing list, which I could grow to 100 people by now. There was no incentive for people to jump on the mailing list other than being informed when the show is released. I mainly used it as I did not have any other way yet (no Twitter, and no podcast feed) for people to follow. After being on iTunes etc. it did not grow much, but that's mainly because I redirect people now to follow the RSS feed.
I plan to experiment with sharing the behind the scenes information on making and growing this podcast with the mailing-list subscribers. I plan to invest quite some time to grow this list in the future, but for now I focus on getting people to know the podcast.
Next steps: Facebook, Instagram and ProductHunt
Yesterday, I started to promote a Facebook page and an Instagram account that I made or converted for the podcast. I also started to reach out to my personal network and let them know about my newest adventure. I'm not a huge FB or Instagram fan, so this won't be my number one priority. My priority is to focus on Twitter for now.
I submitted my podcast episode to PodHunt – a new website from a fellow indie hacker.
After the fifth episode, I plan to release the podcast on ProductHunt. This will be my first product hunt launch, so I'm excited about this.
So, that's what I do so far in terms of promoting and marketing my podcast. I keep you updated on what I learn of what works and what doesn't for promoting this podcast.
If you have ideas how to increase the reach of my podcast, please let me know!